Canoeing Down the Congo River
It's winter here in Canada and I was looking for ideas and inspiration for my next wilderness adventure, when I stumbled upon "
Canoeing the entire Congo river… and living to tell the tale
".
Adventure traveler Phil Harwood from the UK was the first person to paddled down the entire Congo River from its source to the sea, solo, without support from outside.
In his 5-months Congo River canoeing journey he not only had to deal with rapids, waterfalls, crocs and snakes but also death threats, robbery and corrupt authorities.
Here's Phil's article:
Canoeing the entire Congo river… and living to tell the tale
On a truly epic journey,
Phil Harwood
braves crocodiles, giant snakes and machette-wielding tribes to become the first person to canoe the 3,000-mile Congo river from source to sea Phil Harwood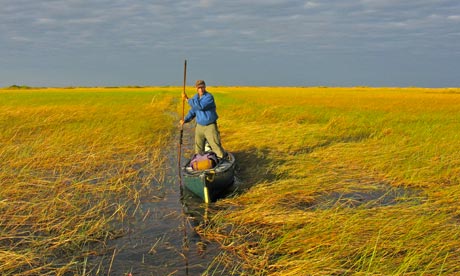 I was alone in the middle of deepest, darkest Congo. Worse still, I was being chased by eight angry tribesmen in two dugout canoes – and they were gaining on me.

"Mazungu … Mazunguuu!" came the screams from behind. "Give us money!" They were all standing up and paddling like men possessed. The nearest guy had a huge machete at his waist. I had been paddling as though my life depended on it. As though? It did depend on it! The fear was rapidly growing within me, demanding an answer to the primeval question: fight or flight?

The word mazungu, white man, was being screamed and repeated along both banks. It was disconcerting, to say the least. I felt like a wolf that had inadvertently strolled into a farming community and was being hunted down. I had to go faster. But now, after paddling my heart out to the point of near exhaustion, I turned around and saw the nearest dugout canoe was less than 20m away. So close that I could see the whites of the men's eyes and their teeth bared in a contorted, hate-filled travesty of a smile.

What was it going to be: roll over and expose my soft underbelly, or put up a fight? It was the venom in the next cry of "Mazungu" that made me decide. I grabbed my machete …

Click her for the full article '

Canoeing the entire Congo river… and living to tell the tale

'.
Here's a 5-minute video of Phil's Congo River canoeing adventure:
What a great adventure!
If you're interested in Phil's book and film, please visit his Web site
Canoeing the Congo
.